COVID-19 Case Rates Still High
Posted by Leighangela Brady on 2/28/2021 7:10:00 PM
02/28/2021
We continue to be grateful to families for the at home learning support that you are providing your children during these unprecedented times. I have had the opportunity to visit many of our National School District distance learning classes, and I am convinced that our students have access to some of the best remote learning opportunities in the state. Thanks to you, our students are also engaged learners; taking advantage of these exceptional opportunities.
You may be hearing in the news about new legislation that would require California schools to reopen by April 15, 2021, and that some school districts, are announcing April reopening dates. At this point this is just proposed legislation, a counter to the Governor's December 2020 proposal, expected to come up for a vote as soon as next week. If passed, schools would need to offer in-person instruction within two weeks after a county enters the "red tier" based on infection rates and numbers of patients in hospital intensive care units.
Elementary schools in counties that are in the "Red Tier" (with case rates below 7 new cases per 100,000 per day) are eligible for reopening. San Diego is still in the "Purple Tier" at 15 new cases/100,000. National City's case rate is currently 30.7/100,000. This week the Governing Board met to discuss the current COVID-19 case rates in National City and decided that the case rates are still too high to predict a target date for safe reopening.
Trustees will meet again on March 10, 2021 and will re-evaluate our re-opening status for hybrid instruction at that time. In the meantime, our comprehensive COVID-19 Safety Plan (CSP) can be found on our website at www.nsd.us. This plan outlines safety measures such as adequate classroom ventilation, staff training on safety protocols, disinfecting procedures, and other details regarding our return to safe in-person learning. In addition, staff will become eligible to receive vaccines this weekend. The County of San Diego is partnering with the San Diego County Office of Education and Southern California Voluntary Employee Benefits Association to help distribute vaccines to education staff as quickly as possible in an effort to aid in the reopening process.
As always, we thank you for your partnership during these extraordinary times.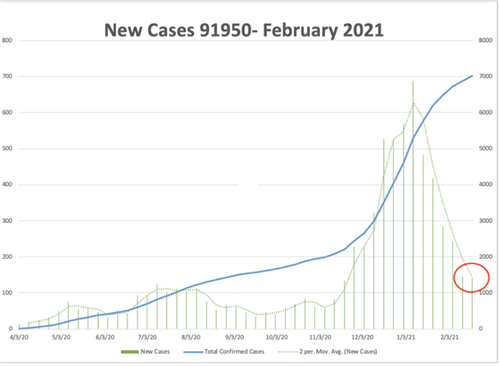 Seguimos agradeciendo el apoyo que le están brindando a sus hijos durante el aprendizaje en casa durante estos momentos sin precedentes. He tenido la oportunidad de visitar muchas de nuestras clases de aprendizaje a distancia del Distrito Escolar National, y estoy convencida de que nuestros alumnos tienen acceso a algunas de las mejores oportunidades de aprendizaje remoto en el estado. Gracias a usted, nuestros estudiantes también son estudiantes comprometidos; aprovechando estas oportunidades excepcionales.
Usted pudiera escuchar en las noticias sobre la nueva legislación que requerirá que las escuelas de California reabran antes del 15 de abril de 2021, y que algunos distritos escolares, están anunciando fechas de reapertura en abril. En este momento, es legislación propuesta, un contrapeso a la propuesta del Gobernador de diciembre de 2020, que se espera que se presente a votación tan pronto como la próxima semana. Si se aprueba, las escuelas tendrán que ofrecer instrucción en persona dentro de las dos semanas después de que un condado entre en el "nivel rojo" basado en las tasas de infección y el número de pacientes en las unidades de cuidados intensivos del hospital.
Las escuelas primarias en los condados que están en el "Nivel Rojo" (con tasas de casos por debajo de 7 casos nuevos por cada 100,000 por día) son elegibles para reabrir. San Diego todavía está en el "Nivel Púrpura" con 15 casos nuevos /100,000. La tasa de casos de National City es actualmente de 30.7 /100.000. Esta semana, la Mesa Directiva se reunió para discutir las tasas actuales en casos de COVID-19 en National City y decidió que las tasas de casos todavía son demasiado altas para predecir una fecha objetiva para la reapertura segura.
Los miembros de la Mesa Directiva volverán a reunirse el 10 de marzo de 2021 y reevaluarán nuestro estatus de reapertura para la instrucción híbrida en ese momento. Mientras tanto, nuestro Plan de Seguridad COVID-19 comprensivo encuentra en nuestro sitio web www.nsd.us . Este plan describe medidas de seguridad tales como ventilación adecuada en el salón de clase, capacitación del personal sobre protocolos de seguridad, procedimientos de desinfección y otros detalles en respecto a nuestro regreso al aprendizaje seguro en persona. Además, el personal será elegible para recibir las vacunas este fin de semana. El Condado de San Diego se está asociando con la Oficina de Educación del Condado de San Diego y la Asociación de Beneficios Voluntarios para Empleados del Sur de California para ayudar a distribuir las vacunas al personal de educación lo más pronto posible en un esfuerzo por ayudar el proceso de reapertura.
Como siempre, le agradecemos su asociación durante estos tiempos extraordinarios.